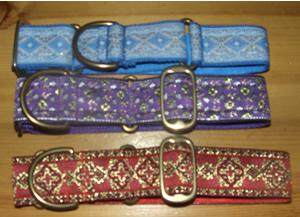 K1T2 - English Style Martingale Collar
40mm wide English style Martingale, adjustable collar. This collar fits neck sizes 13inch to 18inch.  Brass fittings this smart collar comes in stock colours  Purple, Pink and Blue.  
40mm wide with attractive design English style Martingale fabric on strong nylon webbing with brass , adjustable fittings, will fit Greyhounds,  Lurchers  and larger whippets. All colours are with a gold design.  PLEASE NOTE: Designs can differ slightly from those shown dependent on the batch of materials used.